Welcome Back Players!
---
TRYOUT SCHEDULE:


Wednesday, August 19th

9am-12pm all 11th and 12th graders.
11am-2pm all 9th and 10th graders

Thursday- 9am-12pm
Friday- TBD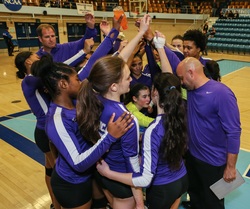 The season officially starts Monday August 17th. As always, please try to convince your parents to take all vacations before that date. We will be running double sessions during that first week and practices will be staggered this year so that I can be available to better judge and evaluate potential players.
Open gym times will be added to the TEAM APP and you should continue checking the app frequently because I will be posting all important information there. If you have not yet downloaded the app, please do so. :)
Returning players also need the following paperwork BEFORE they are allowed to practice. You need an updated physical or one that has not expired yet. You will also need to complete the yearly concussion form as well. I will have these papers available for you at all open gyms. The concussion form will also be available for download here: (concussion form).
There will be a mandatory parent meeting this year that will be on Wednesday, August 26th at 6:00pm in the gym. All parents and players are expected to attend. The meeting will review team policies and expectations for players as well as parents.
---
---
DATE

Tuesday, 9/1

Thursday 9/3

Tuesday 9/8

Tuesday 9/15

Thursday 9/17

Friday 9/18

Tuesday 9/22

Thursday 9/24

Tuesday 9/29

Thursday 10/1

Tuesday 10/6

Tuesday 10/13

Thursday 10/15

Tuesday 10/20

Thursday 10/22

Thursday 10/29

Friday 10/30

Thursday 11/5

Opponent

Ponagansett

LaSalle

Cumberland

MSC

East Providence

Bay View

North Kingstown

South Kingstown

Coventry

Prout

EWG

Chariho

Ponaganset

LaSalle

Cumberland

MSC

East Providence

Bay View






Location

Ponaganset HS

Classical

Cumberland

Classical

East Providence

Bay View

Classical

South Kingstown

Classical

Prout

EWG

Classical

Classical

LaSalle

Classical

MSC

Classical

Classical

TIME

4:45/6:30

4:45/6:30

4:45/6:30

4:45/6:30

4:45/6:30

4:00/5:45

4:45/6:30

4:45/6:30

4:45/6:30

4:45/6:30

4:45/6:30

4:45/6:30

4:45/6:30

4:45/6:30

4:45/6:30

4:45/6:30

4:45/6:30

4:45/6:30