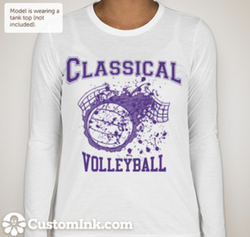 WARM-UPS:

For those players who are interested in purchasing warm-ups, click on the link below to order direct. You will need a credit/debit card to order. The cost is approximately $15.00

DEADLINE is WEDNESDAY, September 6th. Don't miss out.



---
NEW PLAYERS, There are multiple forms that you need to have completed before you are able to participate in tryouts. There are no exceptions to this rule and if your paperwork is not completed, you will unfortunately have to watch from the sideline until everything is completed.

PAPERWORK:

ASSUMPTION OF RISK FORM-NOTE*** This form must be notarized and will accepted unless a notary has completed the bottom. Notaries can be found at banks, law offices, and even schools.

CONCUSSION FORM- This form needs to be completed and signed by both you and a parent.

PHYSICAL - Your physical should state that your are able to fully participate in sports.
What are tryouts and does everyone make the team?
Classical has fielded a consistently strong girl's volleyball team over the past 8 seasons. Classical has made it to the Div I state finals twice and the playoffs 6 out of 7 years. We have produced multiple All-State and All-Division players during this time. Since the team is a popular choice among incoming freshmen, cuts have to be made. We often have 50-60 players trying out for about 32 spots.


What do I need the day of tryouts?
What you need to bring on the first day of tryouts is "ALL" of your completed paperwork. The first week's tryouts will likely be double sessions so you should bring plenty of fluids like water or Gatorade. You should also bring a snack and a small lunch. The schedule usually consists of a 3 hour span of conditioning and practice. You should wear shorts, sneakers, and a t-shirt. I would suggest having an extra t-shirt and shorts in case they are needed. Other than that, you don't need anything else.


Don't get discouraged!! Here are some helpful hints for success:
There are many things you can do to better your chances of making the volleyball team. First, be on time, show up to all tryout dates, give 110%, and make progress each day. Coaches understand that most new players have never played organized volleyball. We know this and our expectations reflect our player's skill level. What coaches look for is your ability to work hard, very hard actually. We look for continued growth as a player as well as the determination needed to succeed at this sport. We look for your ability to build upon skills taught the previous day. If you consistently show these qualities, you will be shocked at how good you will get during the first week of tryouts. We also pay close attention to how you work with others, how you listen, and ultimately how inclined you are at completing the physical skills necessary to separate yourself from other girls trying out. We weigh as many options as possible when making our decision, and it is never easy.
Some girls have decided to play before tryouts. They play in volleyball clubs, in leagues, at open gym, or they also sign up for summer camps. I have attached a list of camps to consider if you want to get some experience before tryouts begin. (CAMPS) If you click on the word CAMPS it will take you to a page dedicated to the multiple camps available for girl's interested in building their skill set. Providence Volleyball Camp run by me at Classical High School is in August, but there are also multiple camps throughout the state on the list. If you wanted to, you could probably find a camp during any week of the summer. The key is to play. Playing anywhere will make you better. Like anything in life, the more you practice the better you get.


What to expect if you make the team:
So, what is it like to be on the girl's volleyball team? Our season starts August 21st and ends in early November. During this time, we play 18 games and practice everyday. Yes everyday!! Practices and games are Monday through Friday. Additionally, varsity has Saturday tournaments and practices during the season too. This means that you have to budget your time and be very organized. Teammates are very helpful in giving advice and support, but ultimately, it's up to you to maintain both your studies and commitment to the team. We also commit to a fundraiser that pays for volleyballs, uniforms, and anything else we may need. It is expected that all players participate in this event since they are directly benefiting from its' proceeds. Lastly, it is encouraged that all team members play during the off season. There are many opportunities to build your skills by being a part of local volleyball clubs or participating in leagues. Many girls from our team have made a decision to make volleyball one of the biggest parts of their lives. As with any commitment, you will have to make some sacrifices along the way, but in the end, most girls find that being part of the Classical Volleyball family gave them far more than what they lost. Hope to see you soon.
Coach John